Stem the Onslaught of System Wide Attacks
Mark Bower
Vice President of Product Management
Voltage Security





"By introducing this service, American Express confirms that contemporary data-centric security approaches are necessary to stem the onslaught of system-wide attacks..."

Top 5 Security Predictions for 2015
Kasey Cross
Security Evangelist
A10 Networks

This set of Top 5 security predictions also offers recommendations on how to protect your organizations' network throughout the year. With so many breaches and exploits it was difficult to narrow the list to a Top 5.

Roundtable


The need to track the actions of users inside a company has greatly increased the amount of data that entities must collect to ensure a complete view of all activity.


Jim Pflaging
President and CEO
SenSage
More Roundtables > >


Solutions
Building Trust and Compliance in the Cloud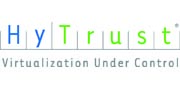 This paper highlights the systems, solutions, and approach Intel used in a joint proof of concept (PoC) with Taiwan Stock Exchange Corporation to address its business needs and increase the overall trust and security of its cloud infrastructure.

More Solutions > >