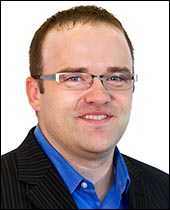 Dan Zitting
VP Product Management and Design
ACL Services


Whether an organization has invested in audit and compliance technology or not, auditors and compliance professionals often end up working in Excel, even though it does not offer optimal functionality for the type of work they do. Fundamentally, the problem with Excel in today's connected, collaborative world is that it traps your information.
For instance, when audit information is captured in Excel, you can't quickly build reports and dashboards from it, you can't access it from mobile devices in stakeholder meetings, and (since it's not centrally located and accessible to a team) audit work is neither transparent nor collaborative. Data gets trapped, along with valuable insights never to be seen again.
Excel is a tempting tool primarily because of its availability, familiarity and relative simplicity. The whole concept of a paper spreadsheet, well before computers were invented, originated with financial professionals who needed to analyze and present information in terms of rows and columns. This seems to have become ingrained in the minds of similar professionals who are perhaps uncomfortable with the thought of modernizing to a tool that is more suited to the task.
However, in addition to being a poor place to collaborate, there are significant risks associated with using shared spreadsheets. For example, it's all too easy to make a formula mistake and it can be difficult to maintain an audit trail of work. It's also not possible to control data access in a spreadsheet. And files can become corrupted or lost in version control mayhem.
Ultimately, Excel makes audit and investigation work frustrating and cumbersome. This leads to a huge necessity for add-in solutions, such as ACL Add-In for Excel, the good ones of which can bridge the gap between standard Excel functions and what auditors need in order to complete tasks efficiently. ACL Add-In for Excel gives users the ability to quickly select samples for testing or investigation; make information, formulas and cells read-only to avoid making errors; allowing them to document results and capture sign-offs, right within Excel. Most importantly, once audit and compliance work is done, users can then export the data from Excel directly into the ACL GRC audit management software for true team collaboration, resolution and follow-up, etc..
Another added benefit of the ACL Add-In for Excel is that it acts as a simple introduction to data analysis and continuous monitoring techniques – all through the use of a familiar tool. Users can easily learn to summarize, filter, stratify and age data without ever leaving Excel.
The key component that makes ACL Add-In for Excel beneficial for audit, risk and controls professionals is that it integrates with ACL's audit and compliance software, including ACL GRC and ACL Analytics Exchange. Test findings can be published right in ACL GRC for remediation, and spreadsheets can be attached directly to audit or investigation steps in electronic work papers. As a range of more complex and powerful data analytics are built and scheduled in ACL Analytics Exchange, all the non-technical auditors can take advantage of those analytics by running them and grabbing the results right from within Excel.
While always preferable to work with true audit and GRC software designed with the full range of capabilities for these tasks, a tool like ACL Add-In for Excel provides the ability to seamlessly integrate Excel-based work into the broader audit process, making life easier for all.

Dan Zitting
VP Product Management and Design
ACL Services

Dan Zitting is Vice President of Product Management & Design at ACL. Dan has extensive experience in the audit, risk, and assurance industry, upon working for several years at Ernst & Young and co-founding the CPA firm, Linford & Company LLP. He is a four-time winner of the CPA Practice Advisor Magazine's 40 under 40 award, a Certified Public Accountant, Certified Information System Auditor, and Certified Information Technology Professional.