People in The News


< Back
Risk-Management : Anti-corruption : Liability :
Thadd Wallace Joins Marsh in Global Risk Management Role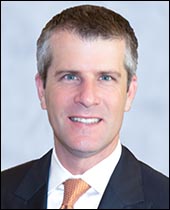 Thadd Wallace
Managing Director, Global Risk Management Practice
Marsh


Marsh, a global leader in insurance brokering and risk management, has announced that Thadd Wallace has joined the firm as a managing director in the Global Risk Management Practice in Atlanta. In this role, Mr. Wallace will work closely with Don Bailey, head of industry and sales for Marsh's US and Canada division, in leading teams serving Marsh's largest clients in the Southeast.

Mr. Wallace joins Marsh from Willis, where he spent the last 13 years, most recently serving as Willis Risk Solutions' Southeast leader.

Commenting on his appointment, Robert Bentley, president of Marsh's US and Canada division, said: "Thadd is a consummate professional with vast insurance knowledge who works tirelessly on behalf of his clients. I'm thrilled that he has joined Marsh, and I look forward to working with him to ensure that our clients receive the best of Marsh on a consistent basis."

Mr. Wallace added: "The assembly of talent at Marsh coupled with its analytic capabilities and platform to deliver innovative risk solutions is truly remarkable. I'm excited to be at Marsh and look forward to ensuring that we meet the insurance and risk management objectives of our clients so they can grow and thrive."

About Marsh
Marsh is a global leader in insurance broking and risk management. We help clients succeed by defining, designing, and delivering innovative industry-specific solutions that help them effectively manage risk. We have approximately 27,000 colleagues working together to serve clients in more than 100 countries. Marsh is a wholly owned subsidiary of Marsh & McLennan Companies (NYSE: MMC), a global professional services firm offering clients advice and solutions in the areas of risk, strategy, and human capital. With more than 54,000 employees worldwide and approximately $12 billion in annual revenue, Marsh & McLennan Companies is also the parent company of Guy Carpenter, a global leader in providing risk and reinsurance intermediary services; Mercer, a global leader in talent, health, retirement, and investment consulting; and Oliver Wyman, a global leader in management consulting.