Time for Grown-Ups To Run IT Security
Philip Lieberman
President
Lieberman Software

The latest repeats of the massive data breaches seen at Target and other major retailers should be proof that existing "detect-and-respond" perimeter security solutions are utterly ineffective.

Roundtable


The need to track the actions of users inside a company has greatly increased the amount of data that entities must collect to ensure a complete view of all activity.


Jim Pflaging
President and CEO
SenSage
More Roundtables > >


Solutions
Building Trust and Compliance in the Cloud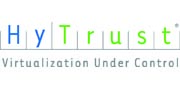 This paper highlights the systems, solutions, and approach Intel used in a joint proof of concept (PoC) with Taiwan Stock Exchange Corporation to address its business needs and increase the overall trust and security of its cloud infrastructure.

More Solutions > >