News


< Back
Security : Cloud : Data Protection :
Unified Threat Management Technology for SMB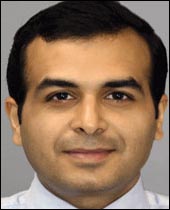 Jyothish Varma
Senior Director of Security Product Strategy
ControlScan


ControlScan announces the general availability of its newest cloud-based managed security service, designed to help small and mid-sized businesses (SMBs) cost-effectively protect their IT networks from the continuous barrage of attacks by malware, trojans and viruses.
The ControlScan ProTect Unified Threat Management (UTM) service delivers layered security that combines the company's deep expertise and high-touch support with the exceptional protection of a UTM security appliance with firewall; advanced intrusion detection and prevention; anti-virus, anti-spam and anti-malware; content filtering and VPN capabilities.
"IT security is a complex undertaking for any size business, but the related time, mindshare and financial investment can place a tremendous burden on the SMB," said Jyothish Varma, senior director of security product strategy, ControlScan. "SMBs are required to maintain the same level of data security as a larger corporation, yet with fewer resources and a smaller IT staff. Managing security on their own, including meeting government regulations and industry standards, is a big headache."
"Information security is one of many operational components within our franchising business," said Marcos Cano, network engineer at South Bend, Ind. based HMR Acquisition. "Entrusting that component to the security and compliance experts at ControlScan helps us focus on what's core to our business and at the same time, maintain a strong security posture."
Unlike many other UTM providers, ControlScan does not simply deliver a device and walk away. Following the Managed Security Service Provider (MSSP) model, the experts at ControlScan engage with existing IT staff to serve as a single, reliable security resource and trusted advisor. The company ensures that its UTM solution is fully and accurately implemented and then follows through by offering continuous network monitoring and security support.
"Working with ControlScan gives us a dedicated IT security team and enterprise-class security, without the expenses and operating costs associated with hiring additional full-time staff and purchasing costly, complex equipment," Cano said.
ControlScan manages its ProTect Unified Threat Management service through a centralized platform in the cloud, enabling scalability from small branches to large networks. The solution is currently in use with a variety of SMBs, including multi-location businesses.
About ControlScan
Headquartered in Atlanta, ControlScan delivers integrated security and compliance solutions that help small and mid-sized businesses secure sensitive data and comply with information security and privacy standards. The company supports business owners, franchisees and merchant service providers with technology, services and expertise for PCI DSS, HIPAA and EI3PA compliance; vulnerability detection and risk mitigation; POS, e-commerce and mobile security; and more.