People in The News


< Back
Governance : Legal : :
Departing SDNY Prosecutor Antonia Apps to Join Milbank
Prosecuted many of the government's major insider trading and securities fraud cases in recent years, including prosecutions against S.A.C. Capital and expert networks; Ms. Apps starts Sept. 22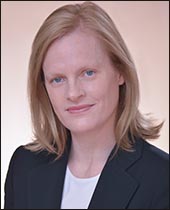 Antonia Apps
Partner, Global Litigation Department
Milbank


Milbank, Tweed, Hadley & McCloy announced that Antonia M. Apps, who for the past several years prosecuted some of the highest-profile securities fraud and insider trading cases brought by the U.S. Attorney's Office for the Southern District of New York, is joining the firm as a partner in its Global Litigation Department. She starts on September 22.
A highly accomplished trial lawyer, Ms. Apps joins Milbank from the U.S. Attorney's Office for the Southern District of New York, Criminal Division, where she was a member of the Securities and Commodities Fraud Task Force. During her tenure, she prosecuted many of the government's most important insider trading cases against prominent hedge funds and expert networks.

Ms. Apps was a lead prosecutor on the Justice Department's prosecution of the hedge fund S.A.C. Capital Advisors, L.P., which culminated in a guilty plea by S.A.C., along with criminal and civil penalties totaling $1.8 billion. Ms. Apps also tried the government's case against S.A.C. portfolio manager Michael Steinberg, which resulted in his conviction on all counts by a jury.
In another groundbreaking case, Ms. Apps was the lead prosecutor in the government's prosecution of a group of hedge fund traders and analysts who participated in an insider trading conspiracy, described as "a circle of greed," that reached across multiple investment firms and netted some $70 million in illegal gains. She secured the conviction after trial of two of the portfolio managers charged in the scheme. She also prosecuted numerous cases arising out of the government's investigation of expert networking firms, including the trial of former Primary Global Research employee, James Fleishman. In all, Ms. Apps prosecuted more than 20 insider trading defendants, all of which resulted in guilty pleas or convictions after jury trials.
Ms. Apps, who tried many jury trials as an Assistant U.S. Attorney and argued numerous appeals in the Second Circuit, handled a wide range of other financial industry investigations and prosecutions, including Ponzi schemes, accounting fraud, broker-dealer and investment adviser fraud, market manipulation, fraud stemming from the sale of RMBS and CDOs, money laundering and obstruction. She is the recipient of the Director's Award for Superior Performance in 2014.
By the time she joined the U.S. Attorney's Office in 2007, Ms. Apps already had an established trial practice. For six years prior to joining the government, she was a partner in the Washington litigation and appellate firm Kellogg, Huber, Hansen, Todd, Evans & Figel, where she worked on major securities and commercial litigation matters, including many cases involving securities and investment fraud. Her clients included institutional and individual investors, investment advisors and corporate issuers. Earlier in her career, she was an associate at Kellogg Huber and at Fried Frank Harris Shriver & Jacobson.
At Milbank, Ms. Apps joins one of the country's leading financial industry litigation practices. The firm regularly handles the most important and challenging matters for large corporate, financial and institutional clients and individual officers and directors. Over the past two years, the firm has served as lead counsel in some of the biggest commercial disputes and regulatory enforcement actions.
Earlier this year, George Canellos returned to Milbank as head of its litigation practice following nearly five years at the U.S. Securities and Exchange Commission, where he served as co-director of the SEC's enforcement division and director of the New York Regional Office. Mr. Canellos previously spent nine years at the U.S. Attorney's Office for the Southern District of New York, serving as Chief of the Office's Major Crimes Unit and Deputy Chief Appellate Attorney, among other positions.

He and Ms. Apps worked with one another on several key insider trading cases that were jointly pursued by the DOJ and SEC during their respective tenures. In addition to Mr. Canellos, Ms. Apps joins three other alumni of the U.S. Attorney's Office within Milbank's litigation group — Milbank Chair Scott Edelman and litigation partners Thomas Arena and James Cavoli.
"Over the last 20 years, Milbank has built a litigation department that companies turn to for their most important civil litigations, arbitrations and governmental investigations," said Mr. Edelman. "We are thrilled that Antonia Apps chose to join Milbank. She brings premier trial skills and governmental experience for us to better serve our clients."
Mr. Canellos commented: "I had the great pleasure of working with Antonia and seeing her in action during the DOJ's prosecution of some of many of the same securities fraud cases we were pursuing at the SEC. Her skills, good judgment, teamwork, and total commitment to her client's interest were constantly on display and make her an outstanding colleague and addition to our litigation group."
Ms. Apps said of her move to Milbank: "It's been an amazing experience to work in the U.S. Attorney's office with some of the finest lawyers in the country. After more than seven years in public service, I'm ready to shift my focus back to helping clients and am excited to be joining Milbank's talented team of lawyers and outstanding litigation practice."
In recent years, Ms. Apps has been a regular speaker at white collar and law enforcement programs, including panels convened by the American Bar Association, New York City Bar Association and Yale Law School.
A native of Sydney, Australia, Ms. Apps received her undergraduate degree in law from the University of Sydney (1990) and went on to earn a Bachelor of Civil Law at Oxford University (1993) and an LLM from Harvard Law School (1994). She served as a law clerk for the Hon. Fred I. Parker in the U.S. Court of Appeals for the 2nd Circuit.
Ms. Apps also earned considerable distinction in the world of figure skating, competing in Australia's national championships and later in numerous competitions in the U.S. She scored top-three finishes in several U.S. Adult National and Regional Figure Skating Championship events and continued to skate competitively in U.S. adult championships as recently as 2003.
About Milbank
Milbank, Tweed, Hadley & McCloy is a leading international law firm that has been providing innovative legal solutions to clients throughout the world for more than 145 years. Milbank is headquartered in New York and has offices in Beijing, Frankfurt, Hong Kong, London, Los Angeles, Munich, São Paulo, Singapore, Tokyo and Washington, DC.
The firm's lawyers provide a full range of legal services to the world's leading commercial, financial and industrial enterprises, as well as to institutions, individuals and governments. Milbank's lawyers meet the needs of its clients by offering a highly integrated and collaborative range of services across key practice groups throughout its global network. Milbank's integrated practice is underpinned by its attorneys' acknowledged technical excellence, sectorial expertise and a strong tradition of innovation and client service.