People in The News


< Back
Compliance : Sarbanes Oxley : Auditing : Financial Close
Solonski Wins ISE West Information Security Executive of the Year Award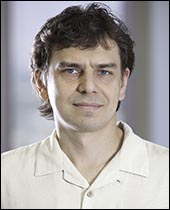 Max Solonski
Director of Information Security
BlackLine Systems


Max Solonski, director of Information Security for enterprise financial software company BlackLine Systems, has won the 2014 ISE West Award in the Executive of the Year category. Mr. Solonski was recognized for his "outstanding leadership" overseeing all information security programs for BlackLine, including promoting information security awareness within the company, ensuring the confidentiality, integrity and availability of sensitive client data, as well as BlackLine's internal information resources, and also facilitating adherence to stringent security standards, best practices and regulatory requirements.
Executives nominated for the ISE West Award in the Executive category are defined as "leaders who improve their organization's risk management, data asset protection, privacy and network security efforts while proactively implementing security technology and processes." Judges evaluated the nominees based on the following criteria: responsibilities, aligning security with the business, leadership, future vision, applying innovation and building technology partnerships.
"We applaud ISE Award Executive winners for their exemplary contributions and are pleased to showcase their efforts in a way that gives them unparalleled recognition throughout the IT security industry," said Marci McCarthy, CEO and president, T.E.N., an Atlanta-based technology and information security executive networking and relationship-marketing firm that sponsors the annual awards program.
Mid-size to large enterprises worldwide use the BlackLine Financial Close Suite in a SaaS (Software-as-a-Service)/Cloud environment across their global organizations to accelerate and streamline their account reconciliation and financial close processes – many of which made the transition from older legacy systems running on-premise/in-house software once they realized the benefits a Cloud solution, such as BlackLine, could offer.
Mr. Solonski was acknowledged for putting the necessary programs, processes and protocols in place to ensure the privacy and security of the sensitive client financial data that is housed in BlackLine. In 2013, under his direction, BlackLine became the first provider of account reconciliation and financial close software to secure the highly regarded and difficult to attain ISO/IEC 27001 certification, confirming that the company meets or exceeds the latest information security industry standards and also maintains and enforces robust and effective policies and procedures to ensure the security of the data managed by its flagship Financial Close Suite. BlackLine joins an elite group of only about 8,500 organizations worldwide that are currently certified.
Earlier that same year, BlackLine became the first account reconciliation and financial close software provider to successfully complete a SOC 2 (Service Organization Control) Type 2 examination and third-party audit – adding even greater focus on controls related to the security and availability of the BlackLine Financial Close Suite. Completion of these key security audits becomes increasingly important as more and more companies are moving confidential corporate data and financial information to a SaaS/Cloud environment where the software and data is hosted and controlled by third parties.
The ISE Program Series is recognized as one of the leading venues for showcasing executives and their teams in the information security industry across the United States and West. For over a decade, the ISE West Awards have recognized nominees from Alaska, Arizona, California, Colorado, Hawaii, Idaho, Montana, Nevada, New Mexico, Oregon, Utah, Washington and Wyoming.
The 2014 ISE West awards were presented at an Executive Forum and Awards Gala on July 30th at the Westin St. Francis in San Francisco. T.E.N.'s flagship program, the nationally acclaimed Information Security Executive (ISE) of the Year Program Series and Awards, is the nation's largest leadership recognition and networking program for security professionals.
About BlackLine Systems
BlackLine Systems was the first to develop and offer a commercially available Balance Sheet Account Reconciliation solution. An experienced provider of software to companies from the Fortune 100 to beyond the Fortune 1,000, BlackLine provides quick-to-implement, scalable and easy-to-use applications that automate the entire financial close process to help improve financial controls for companies of all sizes. With more than 100,000 users in over 100 countries, BlackLine software applications complement existing Enterprise Performance Management (EPM), Governance Risk and Compliance (GRC) and Enterprise Resource Planning (ERP) systems.
Though BlackLine is ERP-agnostic, the BlackLine Financial Close Suite for SAP Solutions is an SAP-endorsed business solution – joining the ranks of fewer than 40 other software offerings globally that are endorsed by the enterprise application software leader. BlackLine also is an SAP Gold Partner.
BlackLine offers clients its enterprise-class financial software in a simple and secure SaaS (Software-as-a-Service) platform. With a proven track record and a commitment to customer success, BlackLine seeks to reduce the burden the financial close places on accounting and finance professionals.
BlackLine headquarters are in Los Angeles, with offices in Atlanta, Chicago, London, Melbourne, New York City and Sydney to serve the company's growing global client base.