People in The News


< Back
Governance : Legal : M & A :
SRZ Expands M&A Practice With Saks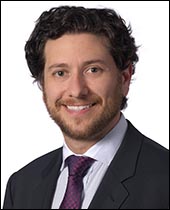 Jeremy R. Saks
Special Counsel, New York
Schulte Roth & Zabel


Schulte Roth & Zabel LLP ("SRZ") is pleased to announce that Jeremy R. Saks has joined the firm as special counsel in the New York office. He will focus his practice on mergers & acquisitions, private equity investments and corporate governance. He joins the firm from Simpson Thacher & Bartlett LLP.
Mr. Saks has experience representing clients in connection with a variety of transactions, including leveraged buyouts, tender offers, spin-offs, carve-outs, PIPEs, preferred stock and warrant offerings, dividends and dividend recaps. He has also advised private equity clients in their ongoing relationships with portfolio companies from acquisition through exit, and he has counseled both public and private companies on general corporate governance matters and best practices.
SRZ partners Stuart D. Freedman and Marc Weingarten serve as co-chairs of the firm's business transactions group, a robust M&A team with a thriving practice. "We are pleased to have Jeremy join our group. He brings a wealth of knowledge, having worked on a wide range of deals while navigating complex regulatory issues," said Mr. Freedman, who is currently leading a cross-disciplinary team of SRZ attorneys in advising Albertsons LLC and an investor group led by Cerberus Capital Management LP in the $9 billion acquisition of Safeway Inc., the largest leveraged buyout since the 2008 financial crisis.
Other high-profile M&A matters handled by the firm include its representation of: Marlin Equity Partners LLC in its $891 million acquisition of Tellabs; Aeroflex Holding Corp. in its sale to Cobham plc for $1.46 billion; Liberty Hall Capital Partners LP in its acquisitions of McCann Aerospace Machining LLC and Precise Machining & Manufacturing LLC; and The SI Organization Inc. and The Veritas Capital Fund IV in the acquisition of the U.S. Services division of QinetiQ Group plc.
SRZ advises clients on deals impacting a full spectrum of industries, including retail, technology, manufacturing, shipping, aviation, hotel, oil and gas exploration, oil field services, real estate, mining, food processing, automotive, health care, car rental, environmental and distribution, among others.
"Our corporate lawyers have advised on some of the most significant deals in various industries," commented Alan S. Waldenberg, chair of the firm's executive committee and chair of the tax group. "We expect Jeremy to make great contributions to our growing M&A practice."
"I am excited to join Schulte Roth & Zabel, a firm known for its strength in strategically guiding its clients in high-stakes M&A matters," commented Mr. Saks, who received his J.D. from University of Michigan Law School and his B.A. from University of Rochester. Before he began practicing law, Mr. Saks served as an aide for former Congressman Richard Gephardt and current Congressman Peter Visclosky.
SRZ is the preeminent law firm for alternative investment managers. As such, it represents many of the world's largest private equity funds in their investments and dispositions. The firm is actively involved in the most sophisticated domestic and cross-border private equity transactions ranging from billion dollar-plus to small-cap deals.
About Schulte Roth & Zabel LLP
Schulte Roth & Zabel LLP is a full-service law firm with offices in New York, Washington, D.C. and London. As one of the leading law firms serving the financial services industry, the firm regularly advises clients on corporate and transactional matters, as well as providing counsel on securities regulatory compliance, enforcement and investigative issues. The firm's practices include mergers & acquisitions; bank regulatory; business reorganization; distressed investing; employment & employee benefits; environmental; finance; individual client services; investment management; intellectual property, sourcing & technology; litigation; regulatory & compliance; securities & capital markets; structured products & derivatives; real estate; and tax.