People in The News


< Back
Governance : Corporate Finance : Legal :
Eric Reimer Joins Milbank Corporate Group
Veteran corporate finance lawyer returns to Milbank; represents clients in range of corporate financings, M&A, credit facilities, debt offerings, and restructurings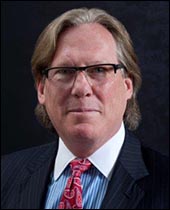 Eric Reimer
Partner, Los Angeles
Milbank


Milbank, Tweed, Hadley & McCloy announced that experienced corporate finance lawyer Eric Reimer has joined the firm's Los Angeles office as a partner.

The move is a homecoming for Mr. Reimer, who was an associate and later senior counsel at Milbank from 1990-99. He arrives from O'Melveny & Myers, where he was Chair of the Corporate Finance practice.

Mr. Reimer counsels clients in all types of corporate financings, including leveraged acquisitions, credit facilities, and restructuring-related financings. He has represented private equity firms, corporate issuers, lenders and borrowers with a particular focus on the healthcare, education, tech, retail and transportation sectors.

In returning to Milbank, Mr. Reimer will be in high demand across the firm. Milbank's corporate and securities groups are active in the U.S., as well as Europe, Asia and Latin America. Among noteworthy transactions this past year, the firm represented underwriters in Verizon's $49 billion bond offering, the largest corporate debt offering on record. In addition to handling frequent large cross-border M&A deals, Milbank advises on major transactions through its leading bankruptcy group, which also plays into Mr. Reimer's strengths.

Milbank Chair Scott Edelman noted of Mr. Reimer's return, "Eric is a highly versatile transactional attorney with an accomplished history of advising on notable deals, securities offerings and restructurings. We are pleased to welcome him back to Milbank, where his knowledge and experience will complement our robust corporate finance capabilities, particularly in the institutional lending, investment and restructuring practices on the West Coast."

Some of Mr. Reimer's prominent transactions include:
Representation of a hedge fund in the restructuring of approximately $1 billion of bonds issued by a wireless provider and related spin off of certain assets to the hedge funds and sale of the wireless provider to a leading telecommunications company.
Representation of a lender in its $4.5 billion secured financing of a casino operator.
Representation of a publicly traded tobacco and real estate holding company in connection with the issuance in numerous transactions of over $1.1 billion of high yield secured and unsecured debt and convertible bonds.
Representation of investment advisors and private equity funds in numerous credit facilities to U.S., European and Asian investment funds, in connection with debt and equity acquisitions, restructurings and recapitalizations and in financings for portfolio companies and multiple exit transactions, totaling in excess of $5 billion.
Representing a leading security and investigations firm in its $900 million international high-yield public debt offering and bank credit facility.
Advising a Canadian drugstore chain in its $3 billion financing of the acquisition of a US pharmacy chain.
"Eric is a gifted deal adviser with an extraordinarily diverse checklist of transactions under his belt," said Ken Baronsky, managing partner of Milbank's Los Angeles office. "His successful track record in so many areas of corporate finance, and his experience in leading large, international teams in leveraged finance, capital markets, restructurings and even project finance make him an exceptional addition to our group. It's great to extend him a big welcome back to Milbank."

Mr. Reimer said, "It's a great pleasure to return to Milbank, where I earned my stripes as a corporate finance attorney and learned early on the benefits of working in a wide range of transactions. I look forward to renewing ties with old colleagues and working with Milbank's outstanding group of deal lawyers, while offering the firm's clients a full array of transactional advice on a global scale."

A longtime source of finance commentary for publications including The Wall Street Journal, The Deal, Euromoney magazine, and The Los Angeles Daily Journal, Mr. Reimer is also widely published on topics such as acquisition finance; insolvencies, restructurings, and defaults; project finance; private equity; and other topics.

Mr. Reimer earned his law degree from the University of California, Hastings, College of the Law, and a B.S. in Business Administration from the University of Southern California.

Mr. Reimer is the second noteworthy alumnus to return to Milbank this year. In February, former Milbank partner George Canellos, who earlier stepped down as co-Director of Enforcement at the Securities & Exchange Commission, announced he was rejoining Milbank as Global Head of the Litigation Department.

Milbank, Tweed, Hadley & McCloy LLP is a leading international law firm that has been providing innovative legal solutions to clients throughout the world for more than 145 years. Milbank is headquartered in New York and has offices in Beijing, Frankfurt, Hong Kong, London, Los Angeles, Munich, São Paulo, Singapore, Tokyo and Washington, DC. The Firm's lawyers provide a full range of legal services to the world's leading commercial, financial and industrial enterprises, as well as to institutions, individuals and governments. Milbank's lawyers meet the needs of its clients by offering a highly integrated and collaborative range of services across key practice groups throughout its global network. Milbank's integrated practice is underpinned by its attorneys' acknowledged technical excellence, sectorial expertise and a strong tradition of innovation and client service.