People in The News


< Back
Governance : Benefits and Compensation : Legal :
Keith A. Mong Joins Venable
Represents large and smaller employers in designing and implementing employee benefit and executive compensation arrangements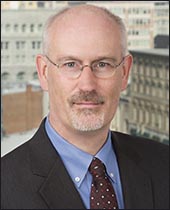 Keith Mong
Partner, Washington, DC
Venable


Venable LLP announced that Keith Mong, a veteran employee benefits and executive compensation attorney, has joined the firm as a partner in its Washington, DC office.
Mr. Mong, a former Venable associate, arrives from the Washington office of Buchanan Ingersoll & Rooney PC, where he was a shareholder and a member of its Board of Directors.
Mr. Mong counsels middle market and emerging business in the full spectrum of employee benefits and executive compensation matters. His work extends from qualified and nonqualified retirement plans to equity-based compensation arrangements, employment agreements, and health and welfare programs.
He also handles benefit questions that arise during the course of corporate mergers and acquisitions
Mr. Mong frequently represents clients before regulatory and governmental agencies, such as the Internal Revenue Service, Department of Labor and the Pension Benefit Guaranty Corporation.
"We welcome Keith Mong back to Venable, who returns with an outstanding range of experience in the benefits and compensation arena," said Larry Gesner, who chairs the firm's Business Division.
"Keith has worked with companies of all sizes, but has great experience assisting large employers to structure and implement appropriate compensation and benefits packages," Mr. Gesner continued. "His experience appearing before key federal regulators is a particular value-added for our clients, who regularly face complex questions regarding employee benefits. And the landscape will only continue to become more challenging in the wake of the Affordable Care Act and other mandated programs."
Mr. Mong has been listed by Best Lawyers in America. In addition to his legal work, he serves as an adjunct professor at Georgetown University Law Center.
"I recall from my time as an associate that Venable has a strong concentration in employee benefits – the firm has one of the country's leading groups and is especially skilled on ever-shifting regulatory issues," Mr. Mong said.
"This continues to be a field of law that is constantly changing course because of shifting political and economic winds, with Congress, regulators and increasingly, shareholder activists and others forcing new policy or rulemaking," he added. "Venable has an excellent team of attorneys, including many with senior-level government experience. The firm has been at the center of healthcare and tax reform, two areas of critical importance for the future of benefits and compensation law. I'm excited to be returning and expect to hit the ground running for my practice and for the firm."
Mr. Mong earned his LL.M in Taxation with a concentration in Employee Benefits Law from the Georgetown University Law Center, his J.D. from the Catholic University of America, and his B.A. from the University of Maryland.
An American Lawyer Global 100 law firm, Venable serves corporate, institutional, governmental, nonprofit and individual clients throughout the U.S. and around the world. Headquartered in Washington, DC, with offices in California, Maryland, New York, Virginia and Delaware, Venable LLP lawyers and legislative advisors serve the needs of our domestic and global clients in all areas of corporate and business law, and complex litigation.