People in The News


< Back
Risk-Management : Technology : Analytics :
Venkata Peri Rejoins PwC
Responsible for Driving Growth in PwC's Advanced Risk & Compliance Analytics Services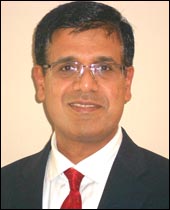 Venkata Peri
Partner, Risk Assurance Practice
PWC


PwC US has announced the appointment of Venkata Peri as a partner in the firm's expanding Risk Assurance practice. Based in McLean, Virginia, Peri will be responsible for driving growth in the recently formed Advanced Risk & Compliance Analytics Services group of the firm's IT & Project Assurance practice.
Peri will focus on both tactical and strategic initiatives, including expanding PwC's Advanced Risk & Compliance Analytics offering into broader areas of compliance in the financial services and healthcare industries. Working with partner John Sabatini, who leads the new service, they will help risk, compliance and finance organizations strengthen their compliance and surveillance capabilities both quantitatively and qualitatively. The practice also assists companies in transforming departments to address increasing data needs, and it helps build systems to enable senior management to focus on highest risk areas and assist with data governance needs.
"We are dedicated to elevating our practice's performance by bringing diverse perspectives to the table, and providing quality service and solutions to our clients. Having Venkata rejoin PwC and be part of our growing Risk Assurance team will strengthen our commitment to delivering great value," said Dean Simone, leader of PwC's U.S. Risk Assurance practice. "His broad experience across financial services, government data analytics and management reporting will enable us to expand our current focus around risk analytics and anti-money laundering compliance technology. We're glad to have Venkata back at PwC."
Peri, an alumnus of PwC Consulting, comes from Deloitte Consulting where he was a partner and led efforts to drive information management and advanced analytics capabilities. Prior to Deloitte, Peri was a partner with IBM Global Services both in India and in the United States. At IBM, Peri launched the CRM and Business Analytics/Optimization service lines for India/South Asia. He was also the founding member and member of leadership team of Reveleus (now part of Oracle), delivering integrated banking analytics solutions across customer, risk and performance analytics.
With the addition of more than 500 new hires in the past year, PwC's Risk Assurance practice now numbers more than 1,900 professionals who provide companies with significant technical expertise as well as deep industry knowledge across all industries. Skilled team members assist companies in developing risk and compliance programs, performing audits and creating internal controls processes around business performance issues, IT systems as well as strategy and contingency planning.
"I am excited to rejoin my partners and colleagues at PwC and look forward to ramping up our new Advanced Risk & Compliance Analytics Services," said Peri. "Having lived and worked in India for years, I also look forward to bringing my international experience to the firm, which is critical to our global delivery capabilities."
Peri has a Master's degree in Computer Science and Applications from National Institute of Technology in India and an undergraduate degree in science from Berhampur University in India. A compelling speaker, Peri presents at leading industry forums and spends time with leading business schools sharing his practical experiences as a guest faculty.
PwC understands that significant risk is rarely confined to discrete areas within an organization. Rather, most significant risks have a wide-ranging impact across the organization. As a result, PwC's Risk Assurance practice has developed a holistic approach to risk that protects business, facilitates strategic decision making and enhances efficiency. This approach is complemented by the extensive risk and controls technical knowledge and sector-specific experience of its Risk Assurance professionals.